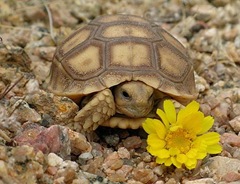 The Desert Tortoise
(The Ultimate Dude)
Reptiles have an inherent edge on being Dudeists from the get-go — their cold blooded physiology is set up for it. Here is a group of animals so dudelike in their being that they do not have the capacity to regulate their own body temperate. Essentially, this means every day they won't bother doing anything until they first have lain out in the sun. Sunbathing as a prerequisite to activity? Sounds pretty Dudeist to me. Then when the reptile gets even the slightest bit chilly it is time to crawl back to the den and take on a deep sleep. Again, a rather Dudewinian trait.
So, does this suggest that all snakes, lizards and turtles are Dudeists? Far from it. Most lizards, for instance, once warmed up, move way too fast to be proper dudes and rattlesnakes are, well, with their poisonous venom and rattling tails, way to scary to be Dudeists. And then there are gators! I once took a canoe trip down the Swanee River, which is crawling with alligators. It did not take too many paddles before I found several large gators boiling aggressively in the water. They were engaged in tearing apart a freshly killed deer carcass in a most aggressive-like manner. Then they were eyeballing me with a reptilian glare that raised a primordial hackle or two on the back of my neck. These were efficient killing machines and I was certainly not excluded from their potential menu. I was not feeling the Tao of Dude in any way on this nature excursion and paddled back to the dock feeling like I just escaped from the man in the black pajamas.
The desert tortoise however, has evolved into the Dudeist niche with such slow motion slacker precision that I dub the, The Ultimate Dude. I have been fortunate enough to work on several surveys searching for these rather rare desert denizens. The largest challenge in finding these desert dwellers is not mistaking them for rocks. They are that mellow. To pass as a rock takes an innate lack of motion that is beyond any conscious effort at laziness — it is pure innate lethargy. This state can only evolve with intense dedication to non-doing and this is exactly the trait that allows a turtle which lives in the desert to not only survive but to reach the ultimate state of calmness in doing so.
When in motion, every effort of the desert tortoise seems a mindful meditation. These creatures need to be as calm as possible in order to survive in the extreme desert heat. They are in constant threat of death through dehydration so to move too quickly or indeed to be anything else but completely chilled would be life-threatening. Tortoises get most of their moisture through the vegetation that they eat and are strictly vegetarian in diet. They can go a year without access to water and spend 95% of their time in underground burrows.
All in all, the desert tortoise lives a very long (80 years or so), very easygoing life. They come out side to plod along a bit, eat some greens and hopefully mate before taking ?er back to the den for another lengthy nap. The fact that they live well in an environment that would quickly destroy more high strung or ambitious creatures illustrates how valuable the Dudeist approach is to survival under extreme conditions. For instance, sleeping through adversity seems to be a highly underrated approach to survival in the human species. As a species and a society, we can learn from the tortoise approach to life. About the only form of aggressive behavior expressed in the tortoises is between males battling for special lady friends. A Dude has to respect that helping his lady friend to conceive is something worth fighting for. Just ask any "private dick."