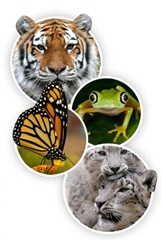 Dudeism Under Siege –
Stepping Over The Lines in the Sand
An unfortunately common concern about our Dudeist animals is their survivorship status in nature. The three species mentioned here are all Threatened or Endangered at both Federal and State levels of mostly due to habitat destruction. It is a sad fact to recognize that some of our Dudeist totems are in danger of extinction. Many other Dudely species, like the Mountain Gorilla, the Panda bear and several Whales (creatures that sing the gospel of the Dude to the underwater world) share a similar fate. What does this mean for animal Dudeism — In this world of unchecked aggression, where enlightened Dudeist species are under constant threat of getting paraquatted, what is a dude to do? The over-the-line greed of the Antidudeists seems to be dominating world policy and practice and threatens to destroy many of nature's more gentle souls.
Nature ultimately seeks balance and Dudeism as a natural phenomenon is only witnessed in a balanced system, an intact ecology. A valuable quality of Dudeism in nature is that it can act like a barometer. Dudeist species are never dominant, they do not impose upon the planet through density of population — that would be undude. They do tend to live in unique, tranquil niches that are only available on a healthy diverse, intact planet. Old growth forests, large undisturbed northern wilderness, untrammeled tracks of pristine desert — these are the private residences of the dudelike animals. Without these places, our "dudeimals" perish and Dudeism in nature begins to crumble. Indeed, a true Dude species would not even want to exist on a planet without these chilled-out places.
The true Dudeist is a conservationist at heart supporting the conservation cause whenever possible. Perhaps support is simply purchasing a tape of whale songs from one's favorite conservation organization to relax to in the tub, or perhaps something more ambitious.
When a Dude sees someone in danger, he gets up from his La-Z-Boy recliner and shambles right out there to see what he can do to help. That is Dudeist compassion. After all, in a world were those who believe in "nussing" can break down the door to your private residence and throw a poor amphibious rodent into your tub of sudsy serenity, imagine how it must be for the Dude animals, not to mention the rodent itself? Do we say to ourselves, "My condolences sirs, the bums lost"? Or do we draw a line in the sand and say, "this aggression will not stand"?
Sometimes the compassionate Dude must take action and I encourage all fellow Dudes to support conservation of our Dudeist species. All these Dude animals really need is a modest place to call home. I do not want to look back at a long list of extinct Dudeist species and reflect that all it really would have taken to fix the big picture was a small gesture. To hold off a bit from the destruction and just give a little something back. It will indeed be a sad day for humanity when we realize that after the next mass extinction, all any animal Dude really wanted was its niche back. They really tied the world together.
More Ins and Outs:
The Nature Conservancy: www.nature.org
World Wildlife Fund: www.panda.org
The Sierra Club: www.sierraclub.org
The Natural Resource Defense Council: www.nrdc.org