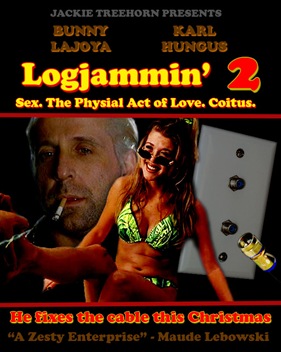 [Update 5/17/10: We now have a full review of the XXX Lebowski Parody here.]
Generally art imitates life. But of course, as the saying goes, sometimes life imitates art.
However, in certain rare occurrences life imitates art imitating art, imitating life, imitating art. Or something like that. Shoosh, lost my train of thought there. Anyway, the fact that a big-name porn company is just about to start filming a XXX-rated parody of the Big Lebowski is enough to get all the strands in old Duder's head all tangled up again.
As all of us know, The Big Lebowski's plot revolves around the Dude trying to track down missing porn star Bunny LaJoya, star of the XXX film, Logjammin', part of which we get to see. Later, we're introduced to porn mogul, Jackie Treehorn, played to sleazy/suave perfection by Ben Gazarra. At the apex of the film, Treehorn drugs The Dude with a laced white russian which impels the Dude to dream a fantastic Busby Berkeley-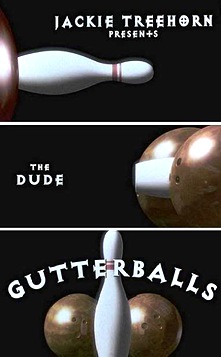 esque parody of a musical porn movie. See, because there's so much else going on in Lebowski, it's easy to forget how much it actually features the porn industry.
Well, the industry, it seems, is happy to return the favor. We've just received word that not only is filming about to take place right away (Feb 25-28), but events surrounding it will be open to members of the press. Now if any of you Dudespaper readers living in the Los Angeles area have proper press credentials (or can get them quick), this might be something you'd like to investigate.
Moreover, we'd be happy to provide an e-letter of credentials for any relatively professional photographers/journalists who'd like to cover the event for The Dudespaper. (We're not sure if they consider us a proper media outlet, but it's worth a try!)
Let us know as soon as possible! Compeers, you know. Chop chop! It's your roll! The gutterballs (so to speak) are in your hands!
Here's the official press release:
On-The-Set Media Days Scheduled for
"THE BIG LEBOWSKI – A XXX PARODY,"
New Sensations' Latest Big-Budget Blockbuster Comedy Currently In Production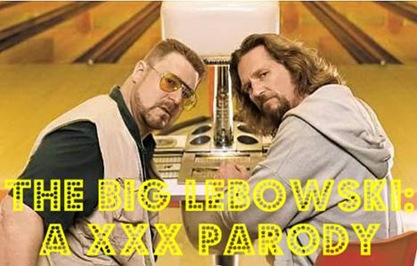 Porn Icon and Legend, TOM BYRON Stars in the Comedic Parody/Homage of the cult-classic "The Big Lebowski."
WHO:

New Sensations, the 2010 AVN award-winning studio for Best Parody is filming their next big hit THE BIG LEBOWSKI – A XXX PARODY. Tom Byron (The Dude) will lead the cast of adult superstars including 2010 AVN and XBIZ award winner for Best Actress, Kimberly Kane (Maude Lebowski), in the highly anticipated Lee Roy Myers directed satire.

WHAT:

The Big Lebowski – A XXX Parody On-The-Set Media Days – Interviews and select photo opps available. Strict Guidelines Apply

WHEN:

February 25th & 26th & 27th, 2010 – San Fernando Valley, CA. In Studio interviews, select photo opps and B-roll footage only

February 28th, 2010 – San Fernando Valley, CA. Overnight shoot– Bowling Alley.  Begins at approximately 12 midnight on Feb 28th and continue through the morning of Feb 29th. Interviews, select photo opps and B-roll footage only

WHERE:

Locations throughout the San Fernando Valley, CA (location confidential until approved confirmation)

RSVP:

To attend, RSVP to Janeen Gensen, JaneenG [at] newsensations.com or (800)748-6767 x 220

1. Day and/or days and TIME you will be attending

2. The first and last names of all attendees

3. The publication/television show/organization you will be representing

NOTE:

Attendance is by invitation only and location address will be disclosed solely to the participants which have confirmed their attendance via e-mail and provided the required attendee information. Professional identity cards for journalists or any document alike are considered to be an essential precondition for attending media. All attendees must be 18 years of age or older.
MORE:
Porn Icon and multiple AVN award winner TOM BYRON will lead the dynamic cast of "The Big Lebowski: A XXX Parody" in one of the biggest acting roles of his career as The Dude from 1998 Coen brothers cult favorite "The Big Lebowski." Directed by the Prince of Porn Parodies, Lee Roy Myers, the sexy send-up of the original will be the first ever porn parody to include "fan roles" hand selected by Myers from submitted audition videos.  Current scheduled global release: May 2010.
NEW SENSATIONS/ DIGITAL SIN
Janeen Gensen, (818)773-4999 x220
JaneenG [at] newsensations.com