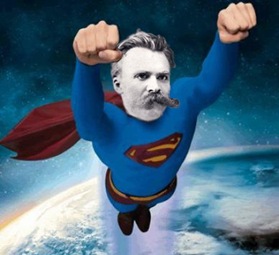 By Rev. Kris Harrison, Orthodox Dude
Well there's a fella I wanna tell you a story, fella by the name Friedrich Nietzsche. Now, Nietzsche, that's not a name a fella would self apply where I come from, and to those of you who are unfamiliar with his work, well, you may not find anything every bit as stupefying as this-a-here story.
Many people know the name, but not many know the man. And well, sometimes there's a man, sometimes there's a man, and I'm talking bout' Nietzsche here. Sometimes there's a man, well, he's the man for his time and place. However, Nietzsche, he was the man far ahead of his time and place, and didn't quite fit in where he was. He was around right about the late 1800's when Christianity was the rule and industrialism was just pokin' its head in to the Protestant-Monarchism of Germany. Back then nobody fucked with the Jesus. Except for Nietzsche, that is.
Nietzsche was a man wise to the meddling of pre-fuckin-fascist Germany and all of its Anti-Semitic, un-abiding fucks down at the league office of the time. He was once a close follower of German composer Richard Wagner until he could no longer stand the aggression of Wagner's Nihilism. It must have been exhausting. Nietzsche had an ethos, and he definitely was not threatening castration.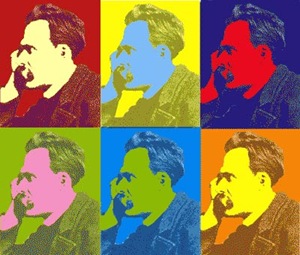 Nietzsche, like the Dude, took a lot of shit, when all he wanted was something to tie the existential room together, and in the end all he asked was to abide. He enjoyed getting high, though in the literal sense (he enjoyed climbing mountains), and overcame the strikes and gutters of a hardshipped life, often spending months in bed sick. He was fragile, man. There weren't many bowling alleys to keep this dude busy, but when nothing was going his way he'd resolve it with a "fuck it, let's go hiking." However, his philosophy proved how gutters only work to exemplify life's strikes and was all too wise to all the whole durned human comedy. He saw what the next century was to unfold, with its fast pace, lack of leisure, and all around nay-saying to takin' er easy.
"Even now, one is ashamed of resting, and prolonged reflection almost gives people a bad conscience."

Aw hell, I've introduced him long enough. So what makes Nietzsche a dude? Well what makes a man? Is it being prepared to do what's right? Well Nietzsche would repeatedly ask "What is right, man?" Herein lies his dudely nature. Nietzsche never took anything at face value, he would not let anyone step over the line with the intention of taking all of humanity to the next round robin. He did not accept the status quo, or any quo or status for that matter. He was an advocate of individuality, personal evolution (overcoming), and taking life by the balls. He would not let anyone piss on his rug, and especially not any Nihilists. He challenged humanity to believe in something, even in the face of absurdity and dirty undies. To believe in "nossing" to Nietzsche would be to spit on life, to piss on one's rug, to hurl the proverbial mug at one's head. Basically, he was trying to keep everyone's thinking from becoming too uptight,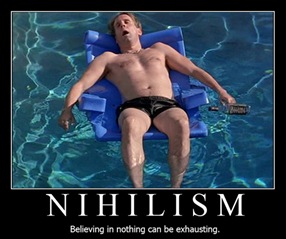 Now, that's something the Dude could agree with. Though Ol' Freddy may be seen as a hardass by those unhip to his true vibes, all the man was looking for was a little peace of mind like the rest of us. His ideas aren't for the timid, but never has there been a dude so hip to what was to come. Any man who spends his life focused on contemplation, personal growth, and not giving a shit about the fuckin' rules is a damned fine dude in my book. Am I wrong?
Nietzsche inspired a slew of wannabe philosophers, religious nay-sayers, and even some very un-dude followers (he was very much misinterpreted by uber-paraquat Adolph Hitler), but in the end no one could touch Nietzsche's insight into human nature and the value of our existence.
So I leave you with a quote.
"When you look into an abyss, the abyss also looks into you. "
Is that some sort of eastern thing? Far from it.
Following along from Nietzsche's philosophy, we propose the idea of the "Dudermensch"!—the überman for his time and place.