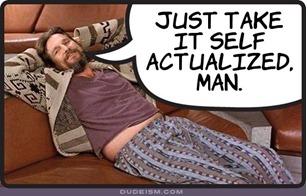 By Bob Harris
In which the transition from Psychoanalysis to Group Analysis to the Higher Evolved form of Dudeanalysis is discussed. The evolutionary history of this process is described and theoretical and clinical issues are outlined.
Psychoanalytic psychotherapy has sadly created the unfortunate impression that it is conducted in dusty rooms by dusty elderly people with middle European accents who have been wearing the same suit for about 40 years. It has been associated with long hours on the couch blathering on about your mother while your analyst makes occasional comments about stuff that doesn't really make much sense. But that's just his opinion.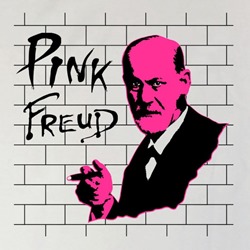 Whilst we have no problem with long hours on the couch, preferably with a beverage, and some tapes of great bowling matches, we now know that there are more evolved ways of making your mind more limber. Eastern shit like T'ai Chi certainly helps, and whale songs while engaged in water-based activities are groovy, if you like that sort of thing, but when it comes to more clinical matters, necessary when things go weird, we need a bit more focus.
History
Psychoanalysis has already evolved somewhat into group analysis, which is more cool and more fun. There are more people to talk to for a start. But even this is not enough for today's day and age, which is far more socially complex than in Freud's time. Freud, for instance, so far as we know, never had anyone threaten his Johnson directly, although he did of course refer to castration anxiety in several texts. And also vaginas, although I can't remember where, exactly. He did write about child sex, though, which reminds me of the creepy Jesus at the bowling alley. So far as we know, Freud didn't spark up, but was partial to a bit of cocaine.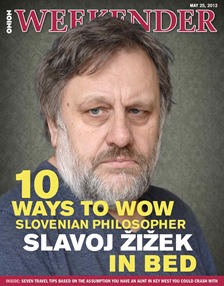 Anyway, Yes! We urgently need a psychotherapy for today's complex contexts, and Dudeanalysis is the way forward. This is so obvious as to need no further explanation, but in, like, academic journals you have to go through, you know, a process of spelling things out, like the Dude had to with Donny sometimes. Most of the time, in fact. Lots of the academics I know would have no idea that 'I am the Walrus' was not written by V.I. Lenin or that the 'marmot' in the bath is actually a ferret. As the great Slavoj Žižek once said something like: "The stupidest people I know are academics."
So here goes.
I've already fully discussed psychoanalysis above, so we'll move on to group analysis, and then we'll check in to Dudeanalysis.
Originally, group analysis was created as a form of therapy that emphasized equality, cooperation and the use of the group itself as the medium of therapy. The main aims are the creation of a reliable, comfortable and relaxed atmosphere where participants can freely associate and say what is on their minds, and listen thoughtfully to what other people are babbling on about. No pressure, except like, you know, that which you bring on yourself.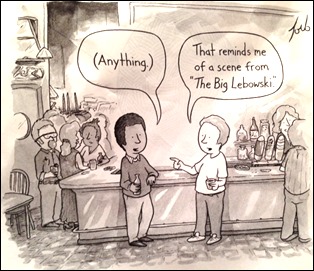 If you notice this, and free yourself from the pressure you bring on yourself, this usually feels better, as if your super-ego has been modified. Free association, where we let the mind wander freely to see where it goes, is the name of the game, even if sometimes, like, you know, you kind of lose the thread. This is OK, as everything is connected in some way. Group analytic thinking really ties the group together like a rug, in what is sometimes called the group matrix.
An atmosphere and group culture of exploration, tolerance and appropriate confrontation, where necessary, is encouraged, and all participants are expected to play an active part in the process. Extreme emotional reactions and responses, like Walter's and the Nihilists, are explored, and the group gradually works towards establishing more cool social and behavioral norms. Attention is paid to context and meaning, and what is going on 'beneath the surface'; not with the aim of apportioning blame, or even deciding who is right or wrong about something, but with the aim of deepening understanding. You can be right, but still be an asshole, a fact that has ethical and even aesthetic consequences.
It is accepted that by no means can everything be understood, and that much in life has to be tolerated that we will never know the answers to. You never really know if a trophy wife has kidnapped themselves or not, but you can make an inspired guess according to observable phenomenology and a sharp awareness of social and relational context.
So much for theory. Next up:
The Clinical Application of Dudeanalysis.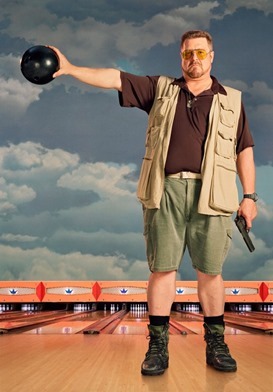 As an example of the clinical application of Dudeanalysis, we will examine the character of Walter Sobchak. Sometimes folks need a bit of help, especially those who need to be right all the time. Walter persistently asserts that his perceptions and actions are correct, repeatedly and rhetorically demanding that others accede to his viewpoint asking "Am I right?" in a way that requires that others agree with him. He is intolerant of the views of others, creating difficulties in his ordinary social relationships, tending towards both rigid thinking and impulsive inappropriate action.
However, during the process of Dudeanalysis, Walter is tolerated and confronted with the destructive aspects of his strong feelings about injustice and his psychological denial of his own responsibility for causing problems. His difficulty is in containing his aggressive impulses in order to think about the consequences. His passive aggression and dependency is demonstrated by the fact that he looks after his ex wife's dog after the divorce. But like a good therapist, The Dude confronts him with this, with the aim of helping Walter to become more self-aware.
With astute therapeutic acumen, the Dude points out the pointlessness of Walter referring everything back to his experiences in 'Nam. My personal view is that Walter was probably just the same before service in Vietnam, where he most likely drove a supply truck at the airport. But as he is a fictional character, we will never know.
Character of the Dudeanalyst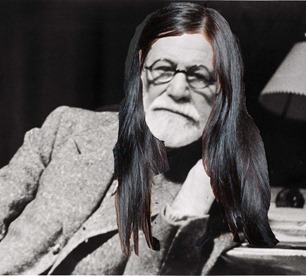 We don't know much about how psychotherapy works, but one of the few things we know is that the personality of the therapist is more important than the therapeutic modality. This is just as true in Dudeanalysis as anywhere else, so here's how it works in this instance.
The Dude is emotionally truthful, even when it is not apparently in his best interests to do so. He talks to the Big Lebowski about his 'Trophy Wife', and points out to the marmot (ferret) wielding Nihilists that his is a private residence. He has a fine sense of reality and complexity; there are a lot of ins and outs and what-have-you.
The loyal and enthusiastic Donny is appreciated, and the Dude is loyal to his group, and even appreciates that the people who are threatening to cut off his Johnson have an important part to play in his extended relational matrix. The Dude is not grandiose in his manner, rather he is thoughtful and therapeutically reflective, and is willing to listen to advice and consultation from senior colleagues like the Stranger. Even if the Stranger is, perhaps, an acid flashback, he nonetheless makes useful points about the Dude's over-use of cusswords and as a benign super-ego figure in the Dude's mind he cannot really be faulted. In time, one would hope that Walter's inner world becomes similarly modified as a calmer, more peaceful and reflective place. Anyhow, that's just my opinion. We'll never know.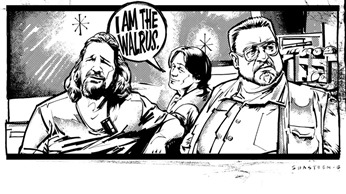 The characters in the film could also be considered to represent parts of the Dude's inner world. The gangs of persecutory, castrating Nihilists, the pornographer and so on. The Dude's activities ties all these together in an integrated whole that underpins his thinking, exactly like a form of psychic rug. He clearly has the mature capacity to be 'alone in the presence of others'; he can enjoy being part of a group, but is able to think and act in an individual way whilst being empathic, even with his enemies and marmots (ferrets), and like with the "fragile" guy who Walter pulls a gun on, the Dude embodies empathy in a way that Walter has difficulty with. He is also prepared to leave a situation and go home when surrounded by unDude elements.
The measured efficacy of Dudeanalysis in Random Controlled Trials
In order to develop Dudeanalysis further, and gain acceptance in Clinical Trials and outcome measures, there is at least one question that needs answering:
If therapy groups were to become engaged in some friendly competition, say in Leagues heading towards playoffs in the Finals, what sort of scoring system would you use?
There are probably more questions, but, let's go bowling.
Bob Harris M.Inst GA Cert.Ed. FRSA UKCP reg.
Director of Training
London Institute of Dudeanalysis