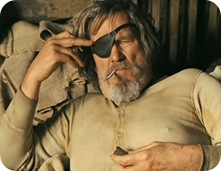 No Frame of Reference—Musings from the Arch Dudeship
By Rev. Dwayne Eutsey
Hola, Dudes.
Yeah, I know it's been a while since my last communiqué to the fold. No harm intended—it's just that, for one reason or another, I never got around to giving you all my notes.
Actually, I was planning to feed the content monkey here last summer after I returned from vacation. But while taking it easy there in the woods one sunny afternoon, I floated on an inner tube down a lazy river that don't where it's flowin', and I took a wrong turn mentally somewhere and j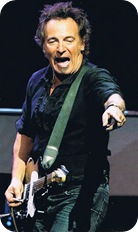 ust kept goin'…in the parlance of  Bruce Springsteen.
Now that the flow has brought me back 'round again to the Monastery, I have to say it's good to be back home from my soggy sabbatical. Looking around the place, though, it appears as though our Dudeist ethos has been doing just fine without any rambling proclamations from yours dudely.
And that's cool. That's cool.
Unlike some of our religious compeers, Dudeism isn't into the whole cult of personality thing. Far from it. It's really all about each of us finding our own way to abide in the Dude-way, with our Church of the Latter-Day Dude providing a virtual bungalow or what-have-you where we can all hang out and abide together.
Not that there aren't personalities here. Hell, I can get you a Dudeist personality by 3 o'clock…with nail polish.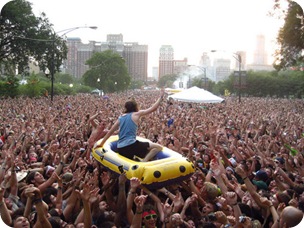 In addition to our Dudely Lama and myself, there's the Arch Dudeship of Italy and the Grand Old Dude of York. There are leading Dudespaper pundits (or pundudes) such as Rev. Ed Churchman, Rev. Wendy, Rev. Mark Mac and others helping to promulgate the abiding truth here when it's not too exhausting. And, of course, there are over 100,000 ordained Dudeist Priests worldwide taking it easy for all us sinners in a world gone crazy.
We are building a religion, dudes, one that you can take comfort in.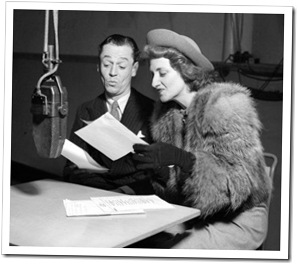 While our faith remains the world's slowest-growing religion, there have been lots of new ins and outs developing lately. There's Dudestock coming up on June 18 in the UK to benefit Special Care Baby Unit in York. Over the past couple weeks, the Dudely Lama, Dude of York, and I were on the radio, with me performing an on-air ordination for two radio deejays in Baltimore, and the Dudely Lama and Dude of York on a BBC programme about promoting the Dude of York's effort to get Dudeism listed as a religion on the UK census.
All of these new strands are pretty far fuckin' out, man.
Parts, anyway.
Some of our priests, after listening to the BBC interview, were a little put-off by how the BBC host and his guest micturated upon our fair worldview by calling it a "made-up religion" and a "joke."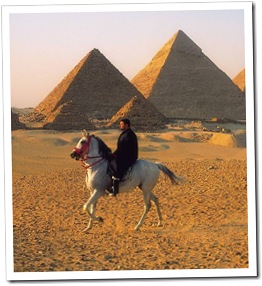 I can dig how that would seem offensive. I mean, a "made-up religion"? Are we going to split hairs here? When you've got folks claiming to see the Fourth Horseman of the Apocalypse galloping down the streets of Cairo during the Egyptian revolution (at 1:20 on the video), who's the one making shit up here?
But that's ok. It don't matter to the Dudeist. Really. We find such distinctions laughable, man.
Which brings me to the other pee stain on our religious rug: the one about Dudeism being a joke.
Don't Worry, Be Fatuous
Although Dudeism's roots reach a-way back to before the beginning of human civilization, it also fits right in here now as a relevant religion for the 21st century.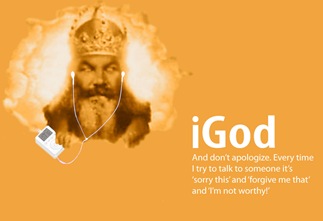 In fact, we have all the characteristics that a fellah by the name of Collin Hinds believes can make religion relevant for the new century: we don't make literalistic connections; we don't think God is like a Big Lebowski-type old man glowering down at us from up in the clouds somewhere; we dig science; we look within; and learning to roll with life's uncertainty is one of our most basic tenets.
But we also have another attribute that a lot of religions seem to lack: a sense of humor.
I don't mean that we appreciate a good joke that makes us laugh to beat the band. I'm talking about humor as an important form of religious experience…that truly old-time religion promoted across the sands of time by sacred clowns, holy fools, and divine tricksters whose pranks deflate our puffed-up self-importance and reveal how the sublime and the ridiculous are inseparably intertwined.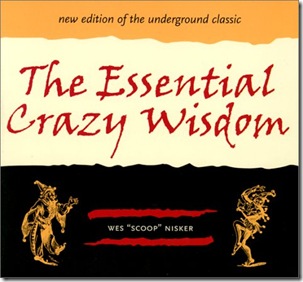 In his book The Essential Crazy Wisdom, Wes Nisker writes about how these cosmic jokers remind all us oh-so-sophisticated humans "of nature and the animal, both around us and within us" and "that we have only recently stood upright and put on these garments."
Nisker cites one particularly fatuous Cherokee ritual called the Booger Dance. In this lively ritual, sacred clowns (called "boogers") disrupted solemn religious services by farting, proclaiming their obscene names (such as Big Balls and Swollen Pussy…you mean, "vagina"?), and danced around shaking their booties and waving around the exaggerated johnsons they wore (which were filled with water and squirted on spectators…but hopefully not on the rug, man).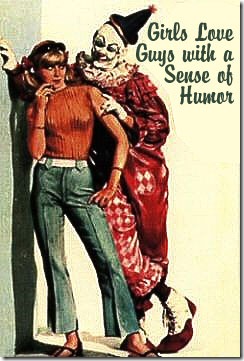 The boogers closed the service by lecherously chasing tribal women around and gyrating wildly in a simulated natural, zesty enterprise.
Now, if that's not a classic Dudeist ceremony, I don't know what is.
So what's my point? My point here is that humor, on a spiritual level, is one of the best ways to ease the uptight thinking that disconnects us from our true selves, from each other, and from our proper place in the universe.
In that sense, then, maybe Dudeism really is a joke or, more to the point, Dudeism lets us in on the cosmic joke so we can see just how ludicrous the human comedy is…and how pretty damn funny it is when you think about it.
So, let's not get hung up on human paraquats dissing our abiding ethos. We can't worry about the shit, man. Like when I was floating down that river last s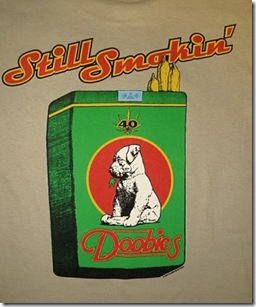 ummer, we've got to just keep going with the flow.
No matter what they say or think about us, Dudeism will, in the parlance of the Doobie Brothers' song "Black Water", roll on just the same.
Abidingly,
The A-D