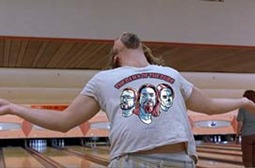 If you haven't checked out the Dudenheim Museum yet, please do. There's some far out Lebowski-inspired art there and we've been adding to it. It's basically the Dudeist version of the Sistine Chapel in Rome.
Big news: We've teamed up with some of the artists to feature tee shirts with some of our favorite designs. If you like, please visit our new shop at Printfection to buy stuff with these amazing, hilarious and eye-catching masterpieces. Tee shirts, hoodies, sweatshirts, mugs, oat-soda steins and more are available. Wear your Dudeism literally on your sleeve.
You can click on the images below to see them in greater detail. Also, there are some cool new designs at our original tee shirt shop worth checking out. We hope you dig our style.
Lebowski Last Supper

The famous internet sensation that even celebrities have been talking about. This masterful rendition of Da Vinci's "Last Supper" is a fabulous work of strongly commended and detailed art. What's more, now you can buy the painting at their site for $3.00 off with our exclusive discount code:
DudenheimPosterSpecial072110


Lebowski Wars
A parody of the original Star Wars poster but using characters and elements from The Big Lebowski.

This amazing image by Matt Plog combines two of the greatest cult films of all time into a timeless and galactic mashup.

May the Deuce be with you!

Dudervana

Jeremy Couturier's far out rendition of Dudervana – Dudeist enlightenment. It captures the mystical essence of Dudeism in all its White-Russian soaked glory.

Enlighten up!

The Dawn of the Dude

Cloxboy's wild and weird imagining of The Dude, Walter and Donnie as flesh-eating zombies. Apparently adhering to a strict brains regimen helps keep your mind limber.
Treehorn's Pad

Jeremy Rosenstein Kortes beautifully captures the world-class lounging skills of The Dude as he relaxes at Jackie Treehorn's unspoiled pad. We like the way he does business.