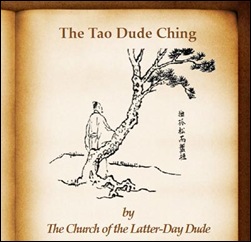 Check out The Tao Dude Ching!
Dudeism may not only be the world's "slowest growing" religion, but it's also one of the newest. So we've still got a lot of ins-and-outs and strands and what-have-you to work out.
One of the criticisms leveled at the One Dude Faith are that it doesn't have a proper holy book. But that's a ludicrous argument. First off, we've got a holy website. And Duderonomy and the Take it Easy Manifesto and The Dudespaper.
What's more, the Bible came out a hundred years after Jesus, the Torah wasn't put together until way after the Jews put up their first temple, and even L. Ron Hubbard took a while to get Dianetics picked up by a publisher.
We've only been around since 2005. Plus we've been takin 'er easy, as our faith dictates we do.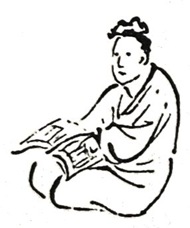 Truth is, we're way ahead of the curve. Only four years after the sanctification of our Church, we now have an official holy book — The Tao Dude Ching. It's an updated and re-reckoned version of the Tao Te Ching of Taoism, written in the "parlance of our times" (i.e. Dudeish). It'll make you laugh to beat the band and help tie all the frayed ends of your rug into an abiding tapestry of Dudeliness. What's more, it's totally free. Your fucking troubles are over, dude.
Like any good holy book, The Tao Dude Ching welcomes interpretation and even a bit of re-writing. So should any of you adept Dudes out there have a vision on the road to Dudemascus and see new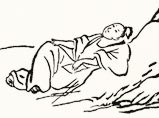 shit which should come to light, please let us know and we'll consider it for the holy canon. Also, if anyone has any ideas for additional sacred Dudeist literature, please roll it on over.
A big thanks to all who masterminded and worked on the project — our forumites Dirt Dude and Digby's Kid, plus Laughing Dude, Digitalbuddha and Lone Dude as well as Arch Dudeship Dwayne Eutsey for providing a far out Inner-duction.
Dudeism abides!