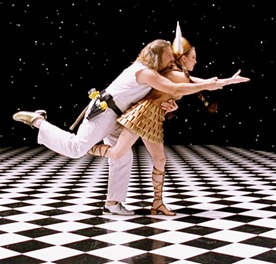 Yoga and Bowling: Complementary Practices
By Rev. Glenetta B. Krause
The meditative silence of the yoga studio and the noisy din of the bowling alley are seemingly opposites. As any Dudeist, knows however, that feeling of peace and serenity many are chasing at the yoga studio can also be found when you're throwin' rocks down the lanes of your local bowling alley. Yoga can probably make you a better bowler—we see that The Dude likes to do a few stretches before a game. And certainly he tries to keep his mind limber. But can bowling make you a better yogi? What lessons are there for the aspiring dudeist yogi in our holy text, "The Big Lebowski" and in our holy land, the bowling alley?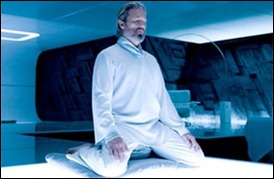 Ever since attending our first fest, Louisville's ninth in 2010, the husband and I try to bowl almost every weekend. We have jumped in whole hog—bought the balls, wear the shoes and we even have an official Lebowskifest ball shiner.
Soon after, we realized we were out of our element so we decided to take lessons from Mike Rea at Dave's World of Bowling in the lovely Crossgate Lanes in Cincinnati, Ohio's Blue Ash suburb.
Mike has never done yoga but he says he can see some similarities. The advice he gave us sounds very similar to the advice of the yoga sages 5000 years ago.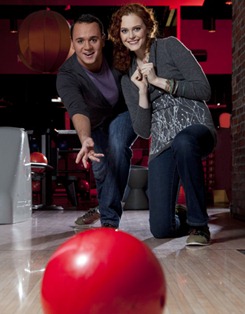 My thinking had become uptight: 4-Step Approach
My regular bowling approach involved crouching down, raising the ball up and down as if it were a priestess' goblet, kicking my leg out behind me, and muscling the ball down the lane, often into the gutter. Mike helped us see that the economy I apply to my yoga practice should be used in my bowling, too.
Mike told me to leave the ball in the return and to take four steps. Just walk, like I had been doing all my life. Then he held my hand and told me to imagine I was holding the ball. He guided my arm through an efficient path. He spoke of pendulums and physics. After a few awkward cycles, he let me try it with my own silver bowling ball. Success. I wasn't throwing rocks but I also wasn't experiencing pain in my shoulder.
This is what the Dude would also advise. Why put too much work into my approach when I actually all I need to do is take 'er easy?
Does the female form make you uncomfortable?: Warrior Pose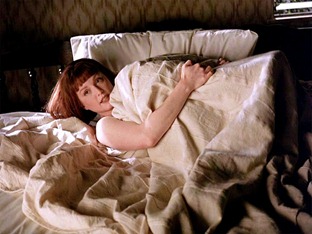 "Follow through!" Mike encouraged. I've never known what that really means. Thus, I throw like a girl. In every sport I've ever played, the ball goes in directions I don't expect.
Mike said, "Isn't there a yoga pose where you step forward and have your hand up over your head?" I stepped into Warrior Pose. "That's it!" He challenged me to land in that pose at the end of my four steps. I swing, the ball is released, and my hand follows it through. My front knee bent at a 90-degree angle, my back leg extended behind me, my right hand raised up towards the low ceiling of the alley—a nearly-perfect warrior pose. Strike.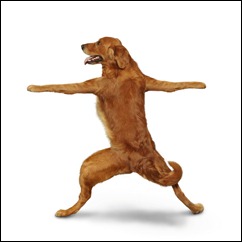 Warrior pose has never been my favorite pose. Beginners usually lean too far forward or too far back with their torso. Practitioners of all levels struggle to keep their knee at 90 degrees. But mostly it is the story that is difficult for me.
The Bhagavad Gita tells the story of Krishna training Arjuna for combat as they ride into battle and this is the pose that embodies that story of war. But I came to yoga because I want peace, not war. The masculine imagery of battle and the god who encourages it seems counter to meditation.
This is also true in our favorite movie. We don't see women in the bowling alley and, with the possible exception of Pilar, the warrior Walter seems to dislike, distrust or disobey every woman he comes across in the movie.
So what should a special lady friend do if she aspires to be a warrior or a bowler? There are a lotta ins, a lotta outs. Take lessons in bowling and yoga. Follow through. Follow the clue or the ball wherever it leads you. And figure out what it is that you're fighting for.
You're being very un-Dude: Getting worse before you get better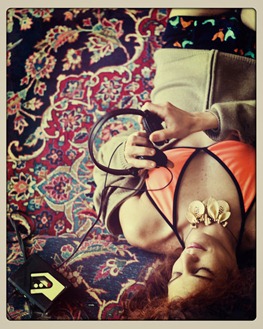 In yoga as with bowling, and perhaps in anything that is truly challenging, the student gets worse before she gets better. My husband and I could sling the balls down the lanes well enough to consistently score in the low 100s before our lesson. Immediately after our lesson, we struggled to score 70.
In our favorite film, the Dude is sometimes very un-Dude. Instead of living in the present, he is anxious about the future. Will his rug be found? Will the nihilists cut off his Johnson? Bowlers are often anxious about the score—their opponents or their own—instead of concentrating on their form, their approach in this frame.
Things aren't always as they seem. If you're not concentrating on all the facts before you, The Dude can be mistaken for The Big Lebowski even though his toilet seat is up. In bowling, the fancy form you see at the lanes is not necessarily good form. The fact I had been ignoring was the pain I'd feel in my shoulder and back from time to time. Before my lesson, I was throwing my 14-pound ball down the lane, using a lot more work than I needed to and certainly more work than The Dude would advise.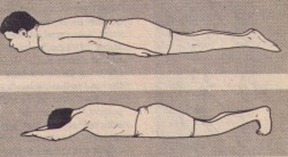 Now, I try to depend on physics to simply roll the ball down the lane. The place where you put your eye is where the ball will roll. You don't even need to look at the pins, says Mike. I keep my eye on the second arrow from the right. When I concentrate on that, I can throw rocks. I can't let myself by distracted by red herrings or nympho-step-moms or bowling pins or scores.
With some patience, our scores have been on the rise. We have less movement in our approach. James "Liam" Hoosier advised us in a game to envision pushing through the ball instead of throwing it. When I can do this, I see a more graceful approach. Smooth. For a few weeks, we had to forget bad habits and red herrings. It will take a while to then develop good habits.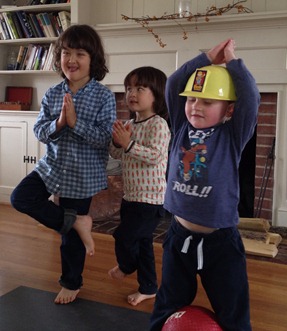 The Dude abides: Can bowling make you a better yogi?
"Do your practice and all is coming," says the Ashtanga yoga guru, Shri K. Patahbi Jois. "Yeah, I'll be at practice," says The Dude. The common lessons I take from yoga and bowling are that we are made better by practice. We need to concentrate on what's important and not let ourselves be distracted by illusions. We need to abide.