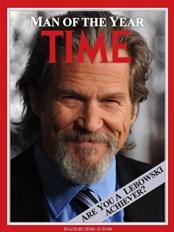 A couple months ago when we released our Dudeism Church Sign Generator, people had so much fun with it that we realized we needed to come out with some more cool Dudeism image generators.
Now you can have fun and games with the following far-out designs, all of which can be easily shared on Facebook or what-have-you:
1) Ordination Certificate Generator
Generate an image of your ordination certificate and show all your friends that you're an ordained Dudeist Priest at the Church of the Latter-Day Dude. Don't worry if you've forgotten when you were ordained – our new tool can help you find the date.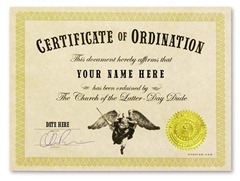 2) Little Lebowski Urban Achiever Achievement Certificate
For those without the necessary means to the necessary means to make their own. Comes complete with a fine etching of the other Jeffrey Lebowski, the millionare. Shit yeah, the Achievers. And proud we are of all of them.
3) Time Magazine Man of the Year Mirror
Everyone loves the scene where the Dude looks into the other Lebowski's Time Magazine Man of the Year mirror and sees "what he could have been" if he'd achieved the modest task which was his charge. Now you can too. Just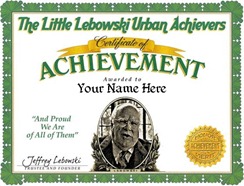 upload your photo and find yourself the most celebrated man (or woman) of 1991.
So have fun and help spread the dude word by generating this funny shtuff and posting it on your facebook profile.
You can also make them for your friends and post it to their profiles – just 1) generate the image, then 2) copy the URL that appears in your browser's address bar and 3) post the link to their profile page. It's a sure cure for status update anxiety. Gotta news feed the monkey!