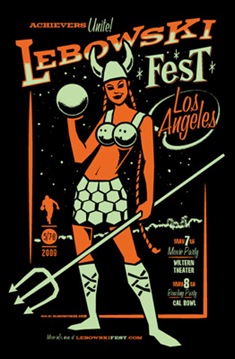 Hi there all you Dudeists,
If any of you will be in Los Angeles May 7-8, please consider attending the Lebowskifest. We'll be there, man.
The first night will be held at the historic Wiltern Theater and will be co-hosted by Reverend Oliver Benjamin, founder of The Church of the Latter-Day Dude. After Benjamin delivers the opening benediction (the "Dude's Prayer") several amazing acts will perform, and we'll all settle in to watch The Big Lebowski in all its glory, with white russians all around.
On the second night of bowling at Cal Bowl in Lakewood, Dudeism will have its own booth set up to help spread the Dude word and provide free instant ordinations, as well as pimp some swag from the church gift shop. We'd love it if you'd come make it to the finals with us. A few beers, a few laughs. Our troubles are over. Dudeism abides.
For more info check out the Lebowskifest page. They are good men, and thurrah.
Casually yours,
The Dudely Lama