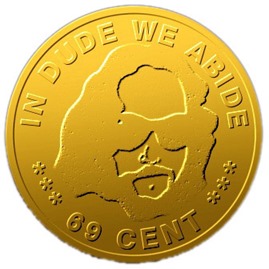 By c.c.keiser
"See a Penny…pick it up…
and if the penny is heads up…
all the day you shall have luck."
This little rhyme is older than I am…not sure by how much, but I bet it's a bunch.
I first heard it as "see a penny pick it up and all the day you shall have luck." but somewhere along the way it changed into the "heads up" rhyme while I was still pretty young. Not sure how young, but I have been flipping pennies…or other found coins…too long ago to remember just when I started.
If I run across a coin and it's heads down…I flip it over and allow the next person that comes along to "pick up the luck." I may not be enriched by the value of the flipped coin, but I feel enriched by the Karma of doing something that will make someone else happy…even if it's just a penny's worth of happiness…it all counts.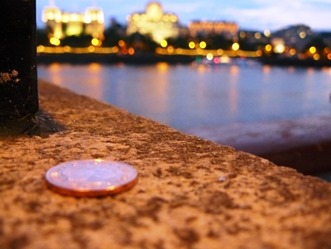 A co-worker saw me flip a penny at work one day and wondered why. I told him the little story and when he got home he told his wife. A few days later he told me his wife was now a fan of mine. He said they had gone to the mall the other day and she flipped a few pennies she found, but then she took it a step further…she began taking pennies out of her own pocket and leaving them face up for others to find. She said it made her feel like the Fairy Godmother passing out luck and happiness…I have since started doing the same myself. It's amazing to see someone's face light up when they find one of my nickels!
It does feel good to pass out a little bit of luck and happiness.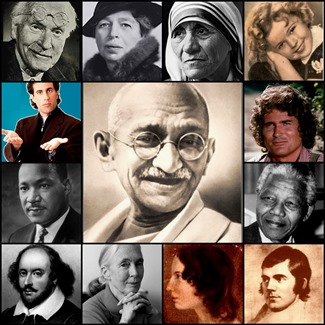 And that is the point of it all…that's the Karma…to increase luck and happiness for others, and in doing so…for yourself as well.
I have no credentials to be preaching anything to anyone.
So why am I telling this story? Why am I writing all this? It's pretty complicated…I'm not sure I completely understand it all myself.
So where to begin? I guess first I should mention that according to the Myers-Briggs personality type test I am INFJ – "The Counselor"…twice…five years apart…and heavy on the Introvert.
I am not a Buddhist…I am not a teacher…I am not a leader and I am not comfortable in the spotlight. All I want is to do is help…help create a kinder, more compassionate world to live in. That is primarily why I wrote the first draft of the Do No Harm essay that Clyde Grossman turned into a bonafide Movement with a web site and everything…Do No Harm (http://donoharm.us) is all Clyde…I was just along for the ride…but I couldn't really keep up.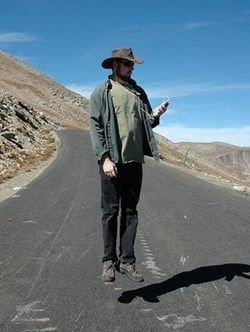 Long before I took that Myers-Briggs personality test I had a recurring dream…in this dream I could levitate. Not very high, just a few inches off the ground, but I could drift along like this for as long as I wished…sort of like riding on an invisible skateboard.
I mostly did my skating in private along wooded trails…out of sight of the general public…but every so often someone would catch me cheerfully floating along. When they would ask how I was doing it, I simply took their hand and lifted them up to my level. And that is all that was needed for them to immediately grasp exactly how to levitate themselves…and that is all they needed to do to teach others. A simple grasping of the hand and lifting up…paying it forward.
And this is probably my INFJ thing, but it was the passing on of the gift that was the most gratifying…even more gratifying then the act of levitating itself. It felt like that was why I was given the gift of being able to levitate…so I could pass it on to others.
Like I said…INFJ.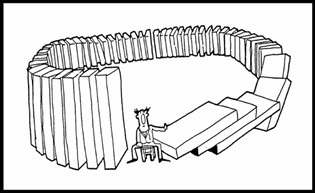 So here it is. What I have come to realize is that with Karma…we really do reap what we sow.
The first step for me was to first try to do no harm…to try and be at peace with the universe and have the universe at peace with me. Just to "be" and to drink in tranquility…a far cry from my previous life…which really was all my own doing. I did not know it then, but it was a universe of all my own making.
As I said previously…I am not a Buddhist, nor am I a "teacher"…in fact in matters such as these I do not believe there are any true teachers…some may serve as guides, but no one can really "teach" how to become aware of your own existence…how to control and create your own universe. How to truly be at peace with yourself and the universe you create. No one can teach you that but yourself.
All anyone else can do is try and give someone else a helping hand up…and say…here…look what I found.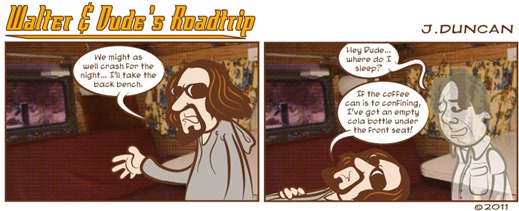 Of course it goes beyond trying to do no harm, and just passing out a few pennies, nickels or dimes here and there. You have to really try and Live the life with all your heart. It does little good to love with half a heart and hate with the other half…if you wish to live in a kinder more compassionate world you need to create it yourself…"be the change you wish to see in the world"…love with your whole heart. If you wish to live a life of comfort and joy…take every opportunity to spread happiness, comfort and joy, even if it's just a few pennies worth.