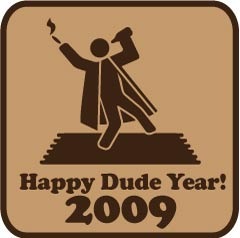 Well, for many of us, 2008 was a very un-dude year. You're goddamn right we won't be living in the past. But you know what? Can't be worried about that shit. Life goes on. Forgeddaboudit.
What's more, when it comes to Dudeism, 2009 is going to be really far out, man. The Church of the Latter-Day Dude and The Dudespaper have a lots of interesting stuff in the works and our bretheren and sisteren over at Lebowskifest.com and Lebowskipodcast.com (and other dudeocracies of the Dudeiverse) promise good things a-coming.
Whatever gutterballs the economy or politics throws at us, we belive it will be a merry, very dude year regardless. Stay tuned here for further developments.
Tonight, let's all drink a white russian (or nine) in honor of The Dude, and tomorrow we'll all sleep in as long as possible. Sound like a good start to a new dude era?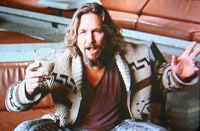 So out and achieve that modest task which is your charge. Westward the flagons! Across the champagne of time. Glad to have you along with us as the durned human comedy progresses.
Abidingly,
The Dudespaper's Editorial We