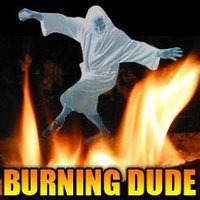 Ok, so this coming Saturday's "Burning Dude" event is not actually a festival. It's more of an easygoing bonfire for Dudeists in the Los Angeles area, in which an effigy of the Dude will be affectionately burnt, much as one would burn a jay. This could be the start of a beautiful Dudeship — we hope it might repeat in other locations. We asked the organizer Rev. Dave Strong to share some of the strands in his head with us: What was the inspiration? Are you employed, sir? Is this a weekday? Here's his reply:
I've been a practicing Taoist and Dude for years, but only recently found Dudeism and became an ordained Dudeist Priest. As I began to share with others how I've learned to remove stress, guilt, and frustration from my everyday life, I started to search for a powerful symbol that embodied this message.

Recently, I was looking through a friend's latest Burning Man photos on Facebook. I've always wanted to go to the festival, but it's a LOT of preparation! There is a checklist (like 4-pages long!) of stuff to bring and wear and eat and blah, blah, blah — plus the advance tickets, travel to Nevada, a week in the dust, etc… Way TOO MUCH EFFORT for lazy Dudes like me! So I thought, what about those of us that prefer to take things easy and as they come? Where's our festival of expression? How about the first ever "Burning Dude?"

Friends and I burn legal bonfires in the pits on Dockweiler Beach, just below the LAX airport runways with jumbo jets blasting off overhead. My vision is a good group of Los Angelinos Dudes and Bunnies driving down to the beach at sunset to enjoy a bonfire — in our BATH ROBES! It's the new Toga, Dude!! After a brief invocation, we'll light up a plywood effigy of the "Burning Dude." Guests are also encouraged to burn a personal item as a symbolic way to purge out old energy and make way for new life. And that's that! The beauty of this plan is in it's simplicity!"

My goal is to have a good time, spread the faith, and to see more 'Burning Dudes' popping up across the country by next summer. Either way, we'll all have a good fuckin' time, Dude!

— Dude Reverend Dave
So head on over to Dockweiler State beach around 5pm and enjoy the sunset with some like-minded compeers. Here's the Facebook event page for all the info. A follow up article will be posted here and photos of the participants will be immortalized across the sands of time. Or at least just across the sands of Dockweiler beach.