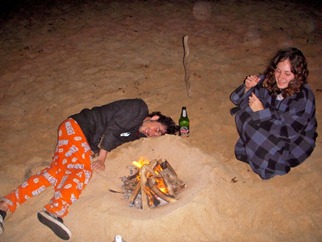 Or: The Best Laid Plans of Mice and Mangs.
By Rev. Noah Hess
Fellow Dudes, please allow me to tell you… My Day of the Dude celebration back in March did not go quite as planned. Out of my two main friends, one had to work and the other was late to arrive and having a miserable day. Something about a puppy, a funeral, and some carpet-pissers' kids she had to care for. My secondary and tertiary friends called to say they could not make it to the pre-party party and that they would meet us at the bowling alley later on; no problem.
After pasta, a few caucasians and get-drunk-quick schemes, we sped off to the alleys where, in the parking lot, I attempted to whittle the story of The Big Lebowski into a 5 minute monologue for my friend who hadn't seen the movie in a few years. After failing this and ultimately trailing off onto some tangent while drinking heavily vodkaed fruit juice, we went into the bowling alley and were quickly denied our dudely destiny by the short-haired shopkeep. It appears some richer fellers than ourselves had rented out the entire place for a private (non-dude) party, and without a reservation, we were officially boned.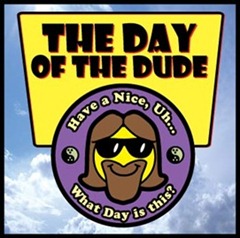 Disheartened, but not giving up, we went straight to the bar and ordered some white russians while waiting for the others. The barkeep handed me what looked like a normal drink, but was in fact the most delicious caucasian I've ever had. "I DEMAND you tell me why this is so great!" I scream after the first sip. Like all great magicians, she revealed her secret immediately. "Ice-cream milk."
[Insert dream sequence here]
…hanging with my entire body out of the window. I was so invigorated! I grabbed the "oh shit handle" and hoisted myself into a sitting position in the car window, waving and screaming at the passing cars in the other lanes of the highway. I then proceeded to dangle carelessly by one arm, legs kicking wildly, smiling insanity at 60 miles per hour. My friend screams "get in here, you're going to get us arrested!"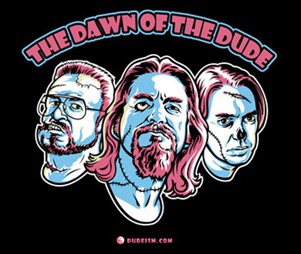 [Darkness warshes over]
…vomiting, yellow…
[What day is this? Is this a uh…?]
…the sand is cold and everywhere. In my pants, my hair, the pockets of my pin-striped suit jacket… I crawl like a confused alligator t'wards the fire and notice my other friend is here suddenly (even though in actuality he'd been there several hours). They talk like a broken tape player, slowing down and speeding up, stopping all together at some points. Although I can't see it, the bosom of the Pacific Ocean is close enough to smell. I'm happy.
[Welp, that about wraps er up.]