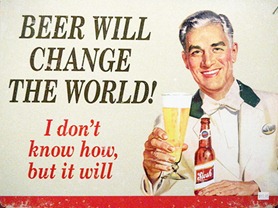 By Rev. GMS
Positive thinking sure sounds like a good idea. It incorporates being positive, and thinking, which are both inarguably far out things. But does it work as promised? Like many far out and fun-filled ideas in life, sadly the answer is probably no.
The idea behind "positive thinking" is that if you only contemplate and focus on success and things going your way, some force of will or metaphysical design implicit in the universe (or our minds) will make that happen. New shit will come to light as if we'd merely rooted around and found the switch.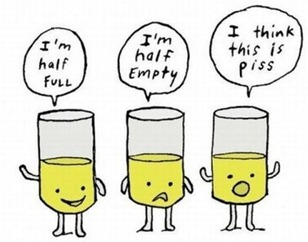 This can be a recipe for catastrophe, however. It can lead one into developing false confidence, deluding ourselves into the idea that nothing can go wrong, or "nothing is [ever] fucked here Dude." Real life can not be further from the truth — by glossing over potential "negative" outcomes we can't develop effective strategies to avoid or overcome those negatives.
Positive thinking is an exercise in passing judgment, it is assigning values to emotional desires that cloud actual situations. When I was in the military we were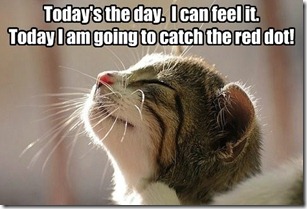 trained in "situational awareness" — being mindful and aware of what is happening, not what we wish would be happening. This way of observing without personal judgment means we are able to discern where actual threats are coming from and deal with those threats in an effective manner. One does not simply sit in a foxhole and wish the enemy away. To survive we need to have an observant mind clear of either positive or negative thoughts.
When questioning the efficacy of positive thinking, the standard retort is that one should "keep an open mind." To which, the thinking Dude must counter with: how open can your mind be if you suppress the negative possibilities? The Tao informs us that positive and negative are not two choices, they are different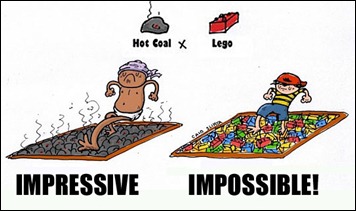 aspects of a singular existence. In personal experience they give each other contrast and create each other. Without knowing of the dark how can we know of the light? The idea that focusing on one side will diminish the other stands contrary to the wisdom of the Tao, not to mention the wisdom of the Dude – he clearly understands and expects life to be full of strikes and gutters. It is in abiding by those ups and downs that we find contentment; not in getting what we want, but just the opposite: through making sense of and learning from what we get.
The Tao doesn't take sides;
it gives birth to both good and evil.
The Master doesn't take sides;
she welcomes both saints and sinners.
The Tao is like a bellows:
it is empty yet infinitely capable.
The more you use it, the more it produces;
the more you talk of it, the less you understand.
Hold on to the center.
— Tao Te Ching verse 5
Certainly, it's important to maintain a positive attitude, but this is different than positive thinking. Positive thinking may put unrealistic goals in our path, which when they fail to materialize after so much emotional investment, can be devastating. Conversely, a positive attitude gives us the energy to deal with either success or failure in a meaningful way. Positive thinking is a trap, an attachment to outcomes, which closes the door to awareness and weakens the adherent instead of strengthening resolve and developing one's resources.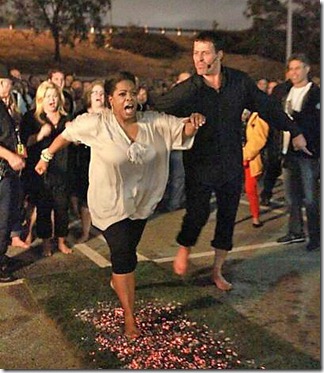 Think about the typical "coal walking" exercise popularized by self help gurus and corporate retreat leaders. Imagining that the hot coals underfoot are a cool moss is an attachment to a pleasant fiction. Recently at an "Unleash the Power Within" event led by Positive Thinking mogul Tony Robbins more than twenty people had to seek medical attention for burns to their feet. They placed their attachment to their "vision" above the reality of fire. Well, that's rather unfair to fire if you ask me. By instructing everyone to think of the coals as cool moss, Robbins robbed the coals of their existence and the attendees of a clear understanding of the nature of coal. The truth of the matter is this: It is because of their poor conductive nature that it is possible to dart across hot coals with light quick steps. It has nothing at all to do with positive thinking.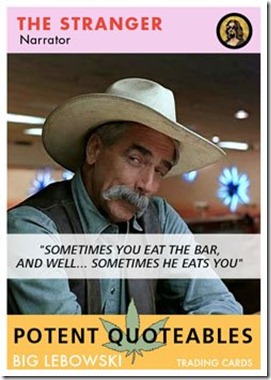 A positive attitude, tempered with mindful awareness, would have given participants the chance to understand how hot coals conduct heat, and allow them to overcome their fear of going near them. A positive attitude would say "these coals are hot and I would like to cross them, what are the possible outcomes to this attempt, how can I avoid burning the shit out of my feet?" Positive thinking, on the other hand, would say these are not hot, go ahead and saunter across, you'll be fine. Then, when you do get burned, who is to blame, you or the fire?
The universe is not a problem to overcome, it is an encyclopedia to master. Positive thinking ignores the wealth of knowledge out there in favor of wishful thinking. A positive attitude says, "I can't wait to read more of this huge fucking book."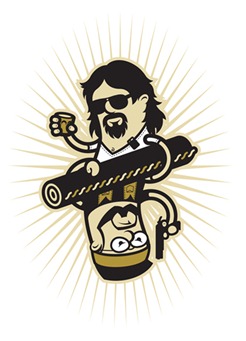 In a paper on the subject, Gabriele Oettingen explains that by contrasting our desired outcomes with the parameters of reality instead of indulging in fantasies we can more easily maintain goal engagement. The key here is not to just dwell on the obstacles or fantasize about success, but to let one inform the other. By looking coolly and carefully at the reality of our situation we can come up with solutions or, in our wisdom, abandon unrealistic goals.
The ideal Dudeist state of "abiding" is exactly this form of awareness. It's not fantasy replacing reality–it is accepting what is as is, then skillfully finding how we fit into it all. And if we make mistakes and the goddamn plane crashes into the mountain, then employing a positive attitude means saying, "Yeah my situation is fucked, but I'm okay with that. What have I learned? And more immediately, how do I climb down off of this goddamn mountain?"
Ignoring the actuality of our situation with so called positive thinking is just another form of uptight thinking; it assumes too much and is aware of too little. Every situation is different – sometimes it's important to roll with the punches, and sometimes it's time to say "fuck it, dude, let's go bowling."
All of this brings to mind the Dude's Serenity Prayer. Please repeat after me.