By Rev. Paul H. Purdy
Some of you may have heard of "YOLO" in the last year or so. YOLO is a popular acronym for "you only live once." As of late many teens and young adults use it as a excuse to do or get away with something stupid. At its base I don't believe that the concept has to mean that you should goof off and endanger your life. What it really mean is that you only have one life to live enjoy it for what it's worth. So slow down and chill because in the end death will be there, and I would rather meet him latter rather then sooner.
Though recently made popular by the rapper Drake, the idea and phrase go back hundreds of years. "One lives but once in the world" was written by Johann Wolfgang von Goethe's in his 1774 play "Clavigo." After that, we find it in Johann Strauss II's 1855 waltz "man lebt nur einmal" (You Only Live Once!). These men were not Nihilists, Donny.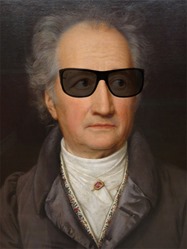 It is my belief that "YOLO" is in every way a great Dudeist quality. No, not the more popular interpretation that sees it as an excuse for doing lots of drugs, partying all night, and other compulsive (and perhaps dangerous) activities. As Dudeists, we should fully embrace the core message as part of being dudely.
To embrace YOLO, we need to slow down and understand that life should be enjoyed, savored, not just used as an excuse to be greedy and aggressive. It's a core part of being a dude really. The concept has been around for years we all just need to get on the same page. If we all just slow down and enjoy life equally and respect others way of seeing things with out being violent or selfish, then all of our lives will be more enjoyable in the long run. The popular interpretation is rather the opposite – the song contains numerous references to using and abusing other people and substances. If you only live once, do you really just want to take your time on earth to be an asshole? I don't think so.
A parody of YOLO from Saturday Night Live
Aside from the hard-hearted message of the song, I do also get annoyed by all this trend of running around using it blindly as a catch phrase. People don't really think about what it means, only think it's cool to say it. Yet at the same time it gets the idea out to just take it easy and enjoy what you can while you can. Probably a lot of people who hear YOLO have their own interpretations as to what it means to them. Not everyone knows the phrase (or reads Goethe!) so maybe in the long run its popularity is a good thing.

Personally as of late I myself have tried to take my life more seriously and live it the best I can. After all that I have gone through in the last year  its hard not to realize just how short life can be and what you need to do to survive.  This in mind, I have been working on a bucket list (or as a Dudeist might call it: a "Fuck It" List) of things I would love to do and plan on doing before my life gets all wrapped up. When I finish doing all the stuff on the list I would like to write articles of my adventures and let my life live on for all who abide. Maybe Dudeism should have a page where people can post their own Fuck It lists. If we will it Dudes, it is no dream.
My Fuck It List:
Go sky diving
Travel to New York to the Little Lebowski Shop and the top of the Empire State Building.
Travel to Hawaii climb the volcano and see the magma and enjoy the sunset
Get my tattoos (Foxstar, Scorpio/n, Dudeist yin-yang)
Be in a movie
Get a motorcycle and drive it across the 48 states
Meet The Dudely Lama and spend the day with him just chilling and talking about random shit really.