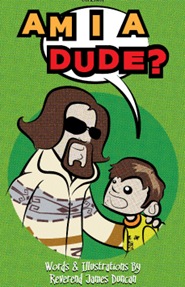 One of the oft-repeated virtues of our sacred source, The Big Lebowski, is that it can represent different things to different people. For instance: Is it a funny movie that helps you forget your troubles? Check. Is it a deep and philosophical investigation into modern-day ethics? Check. Is it a scientific investigation of what happens when you fuck a stranger in the ass? Check. Lebowski is life. And life is basically a lot of stuff happening at the same time.
Yet despite its many-faced mirror, one thing that few have contended is that TBL might be an educational film for kids. Why? Well, first of all, it has one of the highest cuss words-to-runtime ratios of any movie in history. Secondly, the plot is too convoluted for most adults to follow the first three times, much less a five year old accustomed to the immediately gratifying structure of Saturday morning TV. Oh yeah, and also, one of the best characters in the film is a pederast.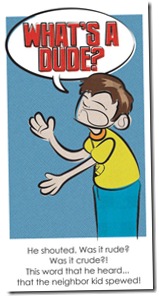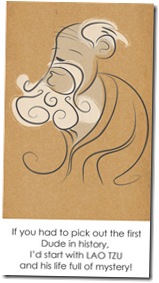 Nevertheless, the Dude is the man for his time and place, and our time and place includes people who still wet the bed and think that Santa Claus is keeping tabs on them.
That said, if we all want people around us to be a bit more Dude, then we have to start off early and teach our children Dudeist ethics. But if we aren't sure about showing them the movie, what are we left to do? Surely we can't rely on the crippled TV version: That's what happens when you find a stranger in the Alps, and feed him scrambled eggs.
Luckily, an enterprising Dudeist Priest, a cartoonist named James Duncan has written and illustrated the world's first Dudeist children's book. "Am I a Dude" is a sort of Cat In the Hat for our modern day, with the Dude acting as mentor to a young fella named Finnegan.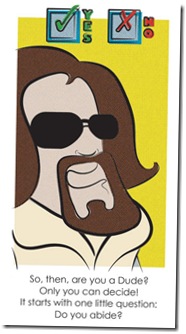 Let's be honest, defining the word "dude" is hard even for us adults. So young Finnegan is understandably confused about its meaning. Luckily the Dude himself appears to help him understand the word, and the philosophy/religion that it spawned. Over the following pages, the Little Lebowski on the way learns not only the history of Dudeism but also how to be a Dudeist himself.
Looking at the lessons laid out so plainly, one wonders if Dudeism shouldn't be taught in school. After all, what is it that troubles most children and adolescents? Many things: Peer pressure, insecurity, fear of failure, concern over looks and social standing and the looming threat of a career. Dudeism is the balm that teaches us not to worry about that shit. So why do we have to learn about it so late in life? Rev. Duncan has provided the first step in providing the necessary means for a necessary means for an elementary education.
Now you know what to get your kids for Christmas this year. That, and perhaps their very first rug. It'll tie their whole life together, man. Unless, you know, they're not housebroken. In that case, you might want to wait with the rug.