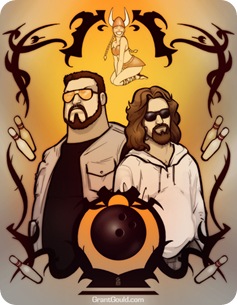 For all the goodness of an acid flashback with none of those pesky side effects, check out deviantArt.com — it's basically an open forum for the artistically inclined to post all sorts of wickedly inspired doodlings and canoodlings.
Now here's the Dudeist part — do a search for "Lebowski" (click here) and an amazing cavalcade of Dude drawings pop up to amaze the eyeballs. We were originally turned onto the site by Rev. Chris Scully who has posted some commendable stuff there himself.
Seriously, we just spend a half-hour browsing around and it felt like walking around in some Autobahn video directed by Knox Harrington (the video artist) and produced by Jackie Treehorn (the known pornographer). Trippy indeed. Is this a weekday?
Support the Dudeist arts! A bill for government funding has yet to be drafted.