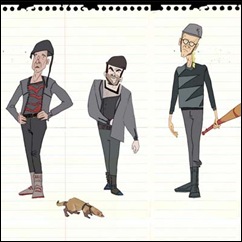 Hey, in the spirit of commending art highly, we'd like to start promoting promising artists who've taken The Big Lebowski and other things Dudeist to heart, and transferred them to canvas (or napkins, toilet paper, body parts, your forehead, and so on).
Our first Dudeler, Mette Vestergaard Madsen looks a bit like Maude, has the playful sense of humor of the Dude, and a name an alpha-Nihilist would love (note: Peter Stormare, who plays Ulli, is Swedish, not German).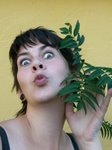 Hailing from forward-thinking Denmark, where she studies illustration and animation, Mette has sketched several Lebowskian illustrations worthy of wall-hanging. They're even big enough to print out yourself and do just that. Really ties the room together.
Hey, maybe Mette and The Swedish Jeff could go on a date?