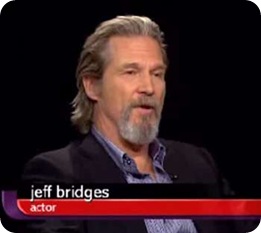 In a recent Rolling Stone article Jeff Bridges admitted that he identifies greatly with the character he might be most remembered for, the Dude. Just the other day, he gave an engaging interview to Charlie Rose, in which Charlie himself prodded Bridges to admit that the character he was most fond of playing was our iconic dudely prophet himself. He demurred, saying he saw a bit of himself in all the characters he's portrayed, but one wonders if that's just a reflection of his humility and general easygoing nature.
If there's one thing the interview seems to prove, it's that the line between this man and the man for our time and place is a blurry one indeed. Bridges comes across as so composed, light-hearted and generous with praise for others that it's as if we're actually watching the Dude incarnate, albeit more neatly dressed.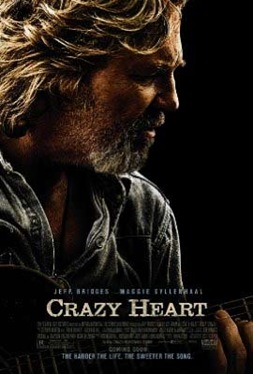 The interview primarily centers around Bridges' new movie Crazy Heart, which many say is likely to garner him an Oscar, but it also covers his entire career, his family life, and even some Buddhist philosophizing! Best of all, there are several references to The Big Lebowski. The only thing missing, in our opinion, was a shout out to Dudeism. But you can't have everything.
A particularly remarkable bit on the show comes during a clip from Robin Williams from an earlier Charlie Rose episode where he says "[Bridges] is one of the great American actors…The Dude is one of the great stoner characters of all time. In California it's a documentary." Williams also mentions that Bridges' acting is so natural that people don't realize that he's acting. Which of course is perfect example of the Taoist principle of wu wei – "doing by not doing." Or as we call it in Dudeism: Dude Way.
Enjoy the interview!