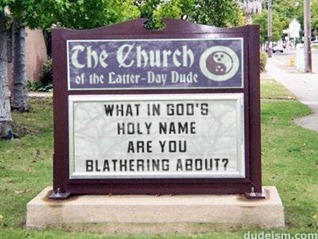 Hey we're hard at work down at the lab coming up with new shit over at Dudeism.com. Just wanted to let you know about some far out developments.
1) The Dudeism Church Sign Generator – Make your own Church of the Latter-Day Dude Church sign! Type in your own message, Lebowski quote or what-have-you, then download it to your computer and send it to friends or post it to your Facebook wall.
2) Lebowski Random Quote Generator – Enjoy all quotes and bits of dialogue from your favorite scenes. Complete with screenshots. When you need your daily dose of Dude.
3) The Dudenheim Museum – A selection of the best Lebowski-inspired art out there. We just started our collection and it's already been strongly commended.
We've also updated the Lebowski Haikutomatic so it rambles a bit more quickly. If you haven't checked out this awesome oracle in a while, why not stop by and check out some kind of Eastern things.
There's a bunch of new shit in the woods, er works. Lotta strands in old Dudeism's head. We plan to have a lot more stuff rolling out soon. As always, hope you dig our style.