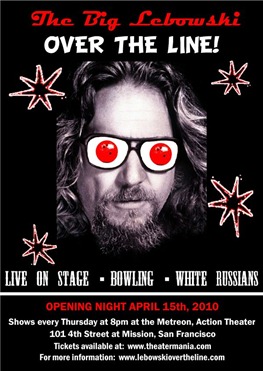 Hey we're all very big fans of Adam Bertocci's Two Gentlemen of Lebowski. He just finished a run of shows that were very highly reviewed. Hopefully there will be more soon so we can all gape in awe just like Donny at Marty's the Landlord's Cycle or What-Have-You.
Well, the creative half and half just keeps flowing, down through the pages, across the strands of Times Roman.
We are pleased to announce that there are two new plays on the block. One is Phil Wells' Dudesong, a reworking of The Big Lebowski into rhyming couplets of iambic pentameter (download the pdf or follow it on twitter), and another is The Big Lebowski – Over the Line!, an original play based on the sacred source. The play will have its opening night in San Francisco this Thursday the 15th and will run every Thursday after that (Maude willing).
Of course, there's other inventive mash-ups out there as well. From our own Dude De Ching (A Dudeist version of the Tao Te Ching) to lots of interesting art (for example, see here and here), and of course the porno version of Lebowski, the production values of which seem to be absolutely stellar for a porn (we wrote about it already here). There's even a theory that the key to the TV show Lost is actually The Big Lebowski. Far out, man. Maybe a bit too far out. Is the smoke monster just coming from the Dude's roach?
Give us a holler if you hear of any other Lebowski mashups, or as we like to call them "ding-ups."
Thanks to Chalupa at Lebowskipodcast for the heads up on some of these.